Calling all Grand Chase guilds. Register your guild now and be able to get your own official Grand Chase guild certificate that shows that Grand Chase Philippines recognizes your guild as a legitimate and authentic guild of Grand Chase.

If you successfully registered your guild, you will be able to receive a Grand Chase Guild Certificate. If you were able to register last year, you are still allowed to renew your registration. Here's a sample certificate given last year: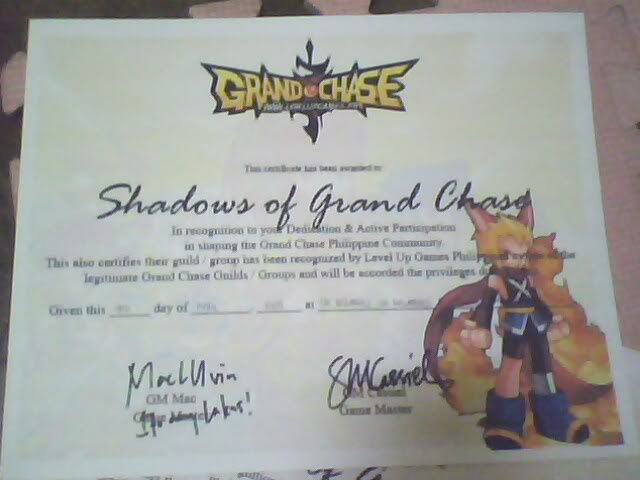 General Requirements:
Your guild should have a guild thread in the forums.

It should be existing for 6 months already and above.

The first page of the guild thread should be decent and nice and it contains all the information needed to know about the guild.

The guild should be active and is usually participating during events.

It should consists of at least a minimum number of 35 members.
Mechanics:
No registration fee required.

The guild leader should be the one to register his guild.

He should send an email to zhi@levelupgames.ph containing the needed information stated below.

Registration will run from October 5 to October 19, 6pm.

The subject line should be [GC Guild Registration] <guild name>

Send the following details:


Guild Name:

Guild Leader:

Members:

Date founded:

If you have an emblem or logo of your guild, please send us a link of the image (high resolution if possible).
How to claim your guild certificate:
The guild leader of the guild should claim his Guild Certificate in the coming Level Up! Live 2011.

He should go to the Grand Chase booth and look for [GM]Zhi or the assigned marshal.

You will then be given the guild certificate and will have your photo taken (Guild leader accompanied by his members) as a proof that you received the certificate.

Claiming of certificates will only be allowed until 5 pm.

For those guilds who successfully registered and is unable to claim their guild certificate at the Level Up! Live 2011, you can still claim your certificate during next year's regionals when we visit a cafe near you.


Please check your e-mails frequently for replies.

You may discuss below.